Fashion Revolution has a ton of awesome events happening across the globe - find one in your area! We've selected some of our favorites for you but we are partial to fashion related events.
There are tons of other Earth Day events happening too, just check out Eventbrite or search directly on Google for ways to get involved!
NEW YORK CITY
Sustainable lifestyle brand showcase
- A curated showcase of six fashion and beauty labels making a positive impact. From artisan made to upcycled to eco-friendly, this trunkshow covers it all. |
Sat. April 20th, 11am-8:30pm
Stylishly sustainable: A panel discussion
- Three panelists from New York based sustainable fashion brands will discuss their thoughts on fast fashion, eco-friendly practices, and what they're doing now to shape and protect the future of fashion. |
Mon. April 22nd, 7pm-9pm
CHICAGO
Chicago ladies' clothing swap
- Bring clothes and accessories that you no longer love, have some wine and snacks, and maybe score some finds that are new to you. |
Tue. April 23rd, 5pm-8pm
Moving fashion forward - from The True Cost to a Sustainable Future
- Join Chicagoans for a screening of The True Cost, a ground breaking documentary that reveals the true cost of fashion. After the screening there will be a panel discussion featuring Chicago entrepreneurs and focusing on sustainable practices and ideas that will impact fashion in a positive way. |
Sat. March 30th 5pm - Tue. April 23rd 8:30pm
MIAMI
Eco-bundling workshop & zero waste dinner
  - A workshop where you learn how to use food scraps to naturally dye textiles. Food scraps are taken from the vegan dinner being prepared by Under the Mango Tree. |
Sat. April 20th, 3pm-7pm
Antidote fashion cleanup
- Join eco-luxury store, Antidote, and local fashion influencer for a beach clean-up this Earth Day. Closed toe shoes are recommended. Other supplies will be provided. |
Mon. April 22nd, 6pm-9pm
MINNEAPOLIS
Shaping fashion: An exploration of sustainable and ethical fashion
- A day long event with speakers, workshops, and an ethical marketplace experience. There will be a pop-up sewing lab too. The marketplace and demos are free and open to the public but the sessions are first come first serve - and with interesting topics like 'Fashion and Feminism' and 'Secrets of Secondhand Styling', you're going to want to get there first. |
Sat. April 20th, 10am-3pm
SAN FRANCISCO
Loved clothes mending bar
- Bring 1-3 pieces of clothing with rips, tears, or split seams, or clothing you want to learn how to alter, or clothing with stains / discoloration you want to hide with embroidery and join one of the five mending stations available to keep your favorite clothes lasting even longer. |
Tue. April 23rd, 6pm-9pm
HOUSTON
Clothing Repair Cafè
- Learn how to repair your own clothes or practice on provided samples and repair at home. This workshop will help make your clothes loved and wearable again, keeping them in use for a lot longer. Kombucha and light snacks provided. |
Thu. April 25th, 4pm-7pm
ONLINE
Webinar: How to be a sustainable fashion consumer
- Can't make it to an event in person? Attend this free webinar online with essential information for anyone trying to live more consciously and wanting to be a responsible fashion consumer. |
Mon. April 22nd, 7pm-8pm
2. REMEMBER YOUR REUSABLE GROCERY BAG
It's not that hard! Or so I keep telling myself. If you have a bunch of bags, from not bringing them with you like we do (guilty), stash a few in your car, maybe roll one up and store it in your work bag or desk drawer, and keep a couple at home. Next time you make your grocery list, write a reminder to yourself: "Bring reusable bags to store!"
(Even better? Bring your reusable bag with you to the Farmer's Market - food less traveled is better for the environment and for the local economy because it supports family farmers.)  
And lids actually, if that applies. The less plastic we consume the better and switching to paper or metal straws is an easy lifestyle change that we can all adopt. I know, I know - our problems are bigger than just straws, but it's not like swearing off plastic straws is a bad thing, it can only help, so go ahead and say no to plastic straws! And if you're worried your teeth will get cold (first world problems anyone?) just ask for no ice. Ordering in? Say 'no thanks' to restaurant plastic-wear and use your own metal cutlery instead.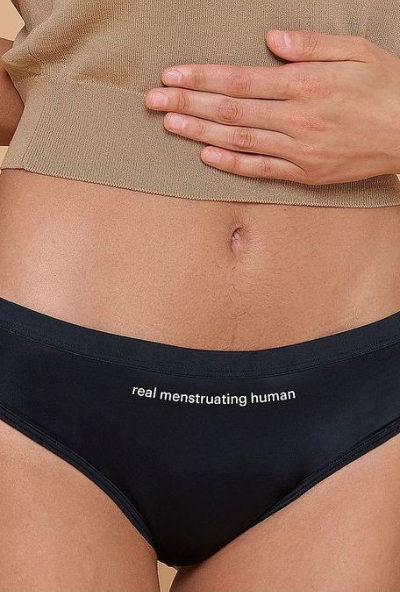 4. TRY A MENSTRUAL CUP OR PERIOD PANTIES
Why not give them a try this Earth Month? I personally use period panties from Thinx and like them for my lighter days but have yet to give the menstrual cup or reusable tampon applicator a go. Perhaps I'll try them out during my next period (don't worry, I'll update you on my experience - whether you want me to or not, right here on the blog).
Some brands to try:
If you're a tampon or pad gal through and through, try these organic and eco-friendly brands instead:
5. LEARN HOW TO RECYCLE PROPERLY
It's one of those things that you probably think you're doing right but is unfortunately more nuanced than it seems. Here are some things to remember so your recycling doesn't turn into trash.
Recycle: Paper products, aluminum, glass containers and plastic bottles, tubs, jars and jugs.

For dirty containers, a quick rinse is appreciated but pristine condition not required.

Don't Recycle: Plastic bags & food contaminated paper products.

Plastic bags get tangled in the equipment at recycling plants and are not actually meant for curbside recycling. Return them to the collection bin at your grocery store.  
Food ruined paper products, like greasy pizza boxes, are not recyclable. Compost them instead, check out this easy, step-by-step composting guide (with video!!) from Better Homes & Gardens.

Sometimes Recycle: Lids. More facilities are accepting them, but make sure they're the same material as the container they came with (i.e., plastic on plastic), and that they're attached to that container when recycled.
Don't Bag Your Recycling: Toss it directly in your curbside bin - bagged recyclables are a hassle for facilities and are sometimes thrown away in the trash entirely.
6. GO ZERO WASTE BEFORE IT BECOMES ALL THE RAGE
A zero waste lifestyle is all about reducing the amount of waste you create, eliminating single use plastics, and reducing your footprint on the environment. And it's slowly making its way into the mainstream.
8 major brands from Greenpeace's list of biggest contributors to plastic waste (e.g., Haagen Daz, Milka, Crest, Axe, Pantene, Tide) are partnering with Loop, a zero waste platform, launching soon in NYC & Paris. Once you're done with your metal containers, you ship them back to Loop where they're sterilized / cleaned, and reused. Pretty cool, right?
There are other awesome stores leading the way too, like the Package Free Shop and Lush - needless to say this is the future and the way the world is changing. Hop on this train now before everyone else and you're guaranteed the title of 'trendsetter'.
Don't know where to begin? Try these 10 Easy Steps to Get Started from Going Zero Waste, a website and blog dedicated to breaking down zero waste living into a step-by-step process. The founder of the site also authored a book and has created a 31-day challenge. Start wherever is comfortable for you.
7. LEND YOUR VOICE, VOLUNTEER, OR DONATE
There are so many cool organizations you can get involved with - and in so many ways, like donating, fundraising, lending your voice by signing a petition or messaging an organization to advocate for change, volunteering, campaigning, and activism.
Demand transparency and accountability from your favorite brands by emailing, tweeting, and tagging them on Instagram / Facebook.
The Sierra Club: Take action by signing petitions and writing messages about the eco causes you're passionate about.
Greenpeace: Join the Frontline, a people powered movement that aims to raise awareness, inspire action, and grow membership.
The Cool Effect: Help cool the planet by offsetting your carbon emissions. On average humans produce 16.6 tonnes of carbon / year - offset your impact with an $88 donation this earth day.
8. SHOP LESS, SHOP SECONDHAND, SHOP SUSTAINABLY
The fashion industry is one of the largest polluters in the world. It makes sense since human's have been making clothing and accessories for thousands of years - they don't just disappear when we're done with them, they're piling up somewhere: landfills. In fact, it's estimated that 85% of clothing ends up in landfills or is incinerated. On top of that, the majority of our clothing today is made from synthetic materials, which are comprised of plastics / microfibers and take a couple hundred years to decompose.
Fast fashion contributes greatly to our over-consumption as a society and to the fashion industry's waste problem. The United States used to ship clothes to other countries in order to get rid of them, but the demand for poor quality clothing is far less than the excessive amount being generated today.
Our choices leave a legacy, that's why The Lunary carries the best sustainable and ethical fashion from brands that are conscious about their impact on people, animals, and the planet. We want to make it easier for you to shop your style and your values too, because fashion without harm is the new cool. So shop ethically, thrifted, or used, invest in pieces that are meant to last, and mend the pieces you love to extend their use.
WTF Do Clean, Non-Toxic, + Safe actually mean?
The Best Serum for Dry Skin